8 Misconceptions About Health Insurance
A Guide for Expats
8 February, 2019
by

Mythbusting health insurance in Vietnam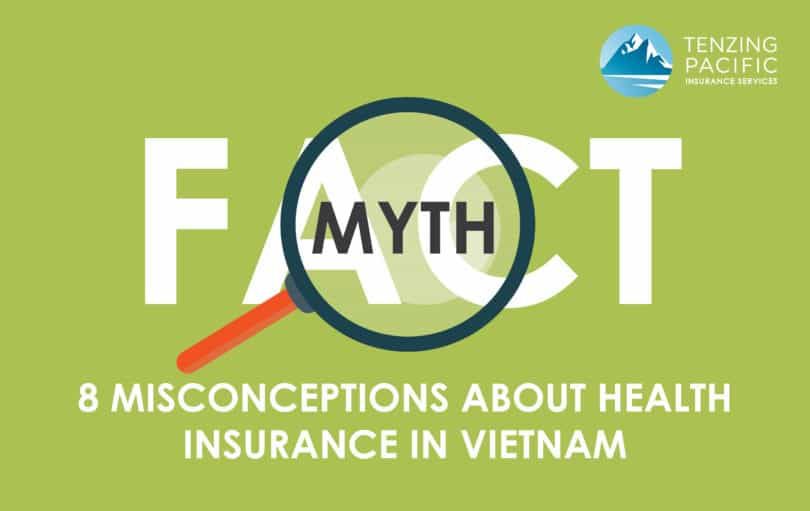 We here at Tenzing Pacific Insurance have heard a wide variety of misconceptions about expat health insurance in Vietnam and SE Asia. It's no surprise really, insurance is a complex topic and people have different past experience & knowledge (or lack thereof).
Even the savviest buyer is unlikely to know their policy inside and out. That being said, here are some common misconceptions regarding expat health insurance in Vietnam and across the SE Asia region.
1. "I'm Healthy, I Don't Need An Expat Health Insurance"
Hopefully, that is true and remains true for many people reading this. However, not everyone is fortunate and many people are affected by medical conditions, chronic conditions, diseases, and unexpected accidents. The fact of the matter is that you cannot guarantee anything.
Going uninsured is a financially irresponsible position which exposes you & your family to a significant amount of risk. This risk is in the form of hefty medical bills at the short-term, but also long-term risk by potentially losing the opportunity to get a future provider to cover you for conditions.
Countless people have thought the same thing and later regretted their lack of action, not only for the financial burden but also for their future insurance situation, future bills & getting a provider to cover you for a pre-existing condition, which is a delicate process.
The Best Time to Get Insured is when you're completely healthy. It's good to build a history with a provider as it reduces short-term medical bills and long-term financial risk of having coverage denied for a pre-existing condition(s).
  Get a Direct Comparison of Insurance Providers
Insurance Simplified


2. "I Can Buy Expat Health Insurance Right Before I Need Treatment"
Simply put, no, that's a pre-existing condition. Insurance companies aren't in the business of guaranteeing loses, that would be a guaranteed loss. Coverage is meant for conditions & treatments that originally arise after the start date of your policy and that are not related to a pre-existing condition or anything on the list of exclusions. What is a pre-existing condition?

In the policy wordings, you'll specifically see clauses which exclude pre-existing conditions. Here are some exclusion examples:
Example 1

Example 2

If this is your primary reason for buying insurance, then you need to be aware that your claim will be denied. If you want coverage for unexpected medical expenses, then you need to buy insurance first.


3. "If I'm Hurt/Sick In A Hospital, I Can Be Emergency Evacuated Back Home"
One of the most common misconceptions is related to evacuation and repatriation services and how they work. The purpose of evacuation is to get you to the nearest treatment facility in a life-threatening situation when treatment isn't available or adequate locally. The choice of where you get evacuated to is not yours to make. Here's how it usually reads:

Now, this isn't always the case. If it made sense for the provider & you to evacuate you to your home country, then it could be arranged. For example, if you were travelling/living in a country near your home country. But, if you are living as an expat in SE Asia, you should not expect to be evacuated back to North America, Europe or Australia
Why? It's ridiculously expensive to fly someone on a specially equipped private flight including the doctors. If patients who are insured could just opt to get medically sent back home, then it would be an astronomical expense to the insurers and emergency assistance providers.
The repatriation benefit is usually only eligible following a medical evacuation, but the rules vary by provider. Some may repatriate you to your home country, some may just give you a ticket back to your country of residence/expatriation. Some providers may only offer repatriation of your remains in the event of death.
For non-life threatening situations, if you'd like to go abroad for treatment, all travel and hotel expenses are your responsibility.
4. "I Didn't Cause The Accident, So I Don't Need A License"
Regardless if you caused the accident or not, if your insurer requires you to have an international or local license of the country you're living in, then you need one, even if the accident wasn't your fault. Yes, that means go get one. While it does take some extra effort, it's certainly not worth the risk of having your insurance denied. It's also certainly not worth your medical bills be the burden of your family or friends. Here is our advice on how to get a Vietnamese Driver's Licenses. We have staff members who can help arrange everything from start to finish in English. Just send us an email to info@ten-pac.com.
5. "Inpatient Insurance Only Covers Me For Overnight Treatments In A Hospital"
Despite the name, if you took an inpatient-only plan, you still have some outpatient benefits. They will vary by provider, but here are a few benefits you can expect to have with any provider:
Day-patient expenses – you may be admitted to a bed as a day-patient but still, go home on the same day. If that's the case, then it's still classified as inpatient expense.
Outpatient surgery – Within the surgery/operation benefit lies outpatient surgery. Many surgeries can now be done an outpatient basis, your inpatient benefits will cover eligible outpatient surgeries. Just make sure to get them pre-authorised with the provider.
Pre & Post Hospitalisation – Consultations, tests, exams and medication in a period prior to and following hospitalisation are covered under this benefit. Usually, it's in a 30-day period prior to hospitalisation and a 30-90-day period following hospitalisation. If you're required for follow-up visits related to a hospitalisation, the post-hospitalisation benefit would cover those. You may have to pay for them as an out of pocket expense initially, then you can claim them back.
Depending on your provider, you may have some other benefits such as emergency room outpatient, wellness and physical therapy.
So even if you take an inpatient-only plan, be aware that you may be eligible for outpatient benefits.


6. "Vietnam Health Insurance Is Like The National Healthcare System In My Home Country"
Like many people living in SE Asia, you may be from a country with a national healthcare system which covers your medical expenses. This may be your first time paying for insurance or even having to think about insurance, much less selecting a suitable option.
Please be aware that not everything is covered as it may be at home. You have specific benefits, possible limitations and policy wordings which outline the rules of your provider and plan. Ask your broker questions, take some time and read through your policy wordings.
7. "I Can Just Buy Travel Insurance"
Here's a common initial plan for SE Asia residents: "I'll just go there for a year or two and then go back home". Fast forward 3 years and you're now a citizen of the world with no intentions of returning home. If that resonates with you, then you should have an expat health insurance plan.
While travel insurance offers health insurance benefits, it's primary purpose is different. Travel insurance is meant to cover unexpected & sudden medical expenses that happen while you're travelling abroad, it's meant to get you well enough to go home or continue your travels. It's not designed to be a long-term option and provide on-going care & treatments.
If you try to switch to expat health insurance after an accident or developing a condition, it will be much harder to do so & get covered immediately.
So while perhaps you've gotten by on a travel insurance plan, you should strongly consider an expat health insurance plan if you're living and working abroad.
8. "My Provider Will Do Direct Billing Out Of My Normal Country Of Residence"
Check with your provider! They may be able to do this for an emergency inpatient treatment via a Guarantee of Payment (GOP). In which case, they will guarantee the treating hospital to settle the bill directly for your expenses. This is provided that the hospital accepts the GOP. Some of the local Vietnamese providers will not offer any GOP outside of Vietnam, even if you're in your coverage, so just take the time and ask your broker or provider.
Which of these resonate with you the most?
We'd love to hear your thoughts, comments, and questions. Let's set up an initial conversation.